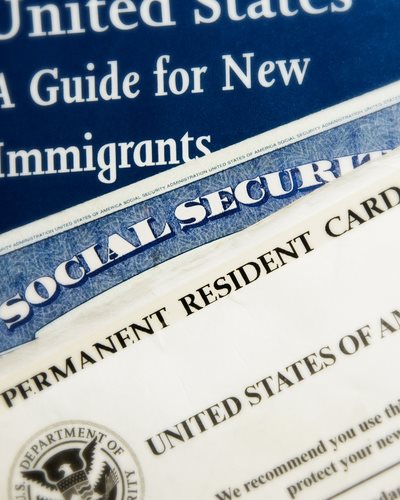 1. The Permanent Resident Card, also known as a green card, means that the individual has earned the legal right to become a permanent resident of United States of America. While a green card does not afford an individual all the potential benefits that are available to a resident of this country, it is a precursor to obtaining these privileges, and for the positive things brings, it is one of the most sought after forms of documentation in America and, for that matter, the world.
2. Analogous to how trying to get a table in a crowded restaurant may be easier for couples who can sit at either a small or large table, the green card application process may be easier for certain people based on their relationship to the petitioner and the amount of visas, permanent residents, married immigrants.
3. The green card application process can be a difficult one, even for someone who is a relative of the citizen who petitions on his or her behalf. In terms of immediate family relationships, as noted above, though, the process is by no means made automatic, but it is made significantly easier by unlimited visas that therefore do not have to be waited upon to become available.
4. Either one or two steps will be involved in the green card through family option. In either case, an I-130 Petition for Alien Relative visa form must be filed as well as an I-485 Application to Register Permanent Residence or Adjust Status. In the one-step option, also known as concurrent filing, the I-130 and I-485 forms can be filed at the same time.
It also should be noted that while petitioners more commonly file these forms within the United States, it is also possible to apply abroad for a visa, travel to the country on the visa, and acquire permanent residency upon arrival. When applying through consular processing, concurrent filing is an option, too.
5. Visas are common for those foreign nationals who wish to temporarily provide services for an employer, receive special training or otherwise contribute to a cultural exchange. However, if a living or working assignment is to become permanent, an application for a green card through work is very necessary.
Green cards are not always a possibility for foreign-born laborers, as the first inclination of an American employer should be to fill any vacancies with U.S. citizens. If this is not feasible, however, then there are several paths to a Permanent Resident Card through an employer.
The petition for a green card through job offer must come through the employer, and may need to be accompanied by a Labor Department Certification and a letter of intent from the employer to hire the individual. Often, the prospective employee will appeal directly to his or her future boss, who will fill out the I-140 Petition for an Alien Worker.
6. Green cards are also available for foreign businessmen and investors who create new jobs for workers in America, which are sorely needed in most job sectors. This occupation category utilizes the I-526 Petition for an Alien Entrepreneur. As for the I-130 Special Immigrant Form, this belongs to certain very specific classes of immigrants, including Iraqi and Afghani translators.
7. A select few persons with extraordinary ability in science, arts and business, meanwhile, will qualify for a National Interest Waiver, eliminating the need for a visa application by virtue of the name.
8. While the green card lottery, or application for a Diversity Visa, is far removed from a state lottery where thousands or potentially millions in jackpots can be won, there are similarities. For one, long odds must be overcome to win in both lotteries. As the name implies, there is also a random drawing element to both the green card lottery and that of legal gambling
Right from the naming system that comes along with the green card lottery, it is evident that, while it is a wholly viable process for obtaining a green card, it is not a standard process by any means; the green card lottery is known officially as the Diversity Visa. One critical thing to know about the green card lottery application process is that it is completely electronic. While fees will be required to process biometrics information (i.e. fingerprints) for receipt of the physical card, there is no fee to file the application.
Thus, anyone who seeks a fee to help you with your application is most likely trying to scam you out of your money. While the drawings are more or less random, this is small consolation to some given the idea that some people will have to work for years on a visa while others may win permanent residence in a matter of months.
9. The green card applicant will want to have the right mindset when approaching an interview. The green card applicant should prepare for their green card interview well ahead of time, as this interview is not a mere formality. Certainly, one will want to check lists of requirements provided by the USCIS and Department of State, but fundamental proofs of identification such as birth certificates, passports and passport-style photos, medical records, and alien registration forms are crucial to have on hand.
It would be prudent, as well, to consult with someone who has undergone the interview process before, and can help the applicant prepare for the types of questions he or she should expect during the interview. Above all else, though, the official reviewing the applicant's case will be looking for inconsistencies in information, so it is advantageous for him or her to answer all questions honestly and directly.
Comments
comments