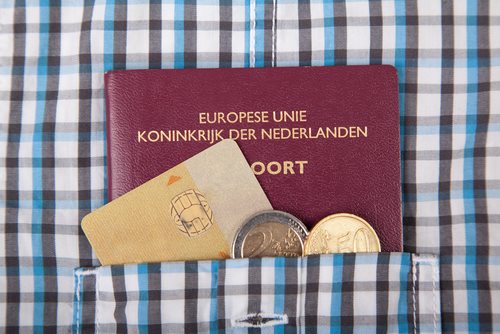 A lost passport can prove to be a very frustrating situation, particularly the passport is lost while traveling in foreign countries. Furthermore, a lost passport can be conducive to more serious matters, such as the possibility of identity theft. However, a lost passport is a situation that can be dealt with, though it may take sometime to accomplish obtaining a new one.
A lost passport while in the United States will not be as a dire situation as one that is lost abroad. However, the process to obtained a passport can take a considerable amount of time, which can play a factor if one plans on leaving the country. Firstly, lost passport is to be reported to the Department of State in order to notify the proper authorities of the situation.
This should be done over the phone first, as to at least report the lost passport so that it can be rendered invalid or canceled. This allows for the security measure of not allowing anyone from using the lost passport illegally or to steal one's identity. However, the phone call may not be enough to secure a new passport, and will require submitting a DS-64 form as well. It is important to note that once a lost passport is reported, the procedure cannot be reversed, which will cancel the passport, even if it is found eventually.
While traveling overseas, a lost passport is a much more serious situation, for one will not be able to leave the country until the passport is found or a new one is obtained. Contacting the nearest United States Embassy or Consulate is necessary to report a lost passport, and more importantly, begin the process to obtain a new one. A short term passport may be granted to travel back to the United States, though one will have to obtain a new passport once home.
What is a Lost Passport?
A passport is a legal document issued by the Federal Government, which enables an individual to travel abroad. Without the acquisition of a passport, an individual is legally not entitled to enter or leave a given country.
If an individual – through carelessness, accident, or robbery – has lost their passport, they must replace it before travelling.
It is they encouraged to immediately report the lost passport to the United States Department of Consular Affairs.
Passports, due to the increased amount of fraud and the dangers associated with entering a foreign country, have become highly regulated documents in regards to the application process, the renewal process, and the filing for a new passport.
What to do if you lost your Passport
If you have lost your passport, you must not onlyreport the lost document, but you also must embark on the retrieval process in accordance with the guidelines expressed by the Federal Government's Depart of Consular Affairs:
The following forms must be filed to initiate the retrieval process for a lost or stolen passport.
Form DS-64: The Form DS-64 is the official document that expresses a statement regarding a stolen or lost passport. The filing of this form is not analogous to an application for a replacement passport; an individual must apply for replacement passport in person – in addition, the applicable fees must be satisfied.
If an individual recovers a lost passport, they are required to deliver it to the following address; upon receipt of the passport, it will be destroyed – once a passport is reported as lost, it will not be reactivated:
U.S. Department of State
Passport Services
Consular Lost/Stolen Passport Section
1111 19th Street, NW, Suite 500
Washington, DC 20036
Replacing a Lost Passport
To replace a loss passport, the same measures must be taken as if the individual applicant were applying for a new passport. This process includes the submission of all applicable documentation and fees. The applicant must submit the following documentation to their local passport offices (government buildings, including post offices, municipal buildings or court houses:
A valid birth certificate or a government-issued identification – both must be original copies
A valid social security number
A photograph that meets the requirements expressed by the Passport Office. The photograph must be in color, 2 inches by 2 inches in measurement, and taken within 6 months prior the application.
The individual must satisfy the $75 service fee, as well as an additional processing fee of $25.
If the individual would like to receive their passport in an expedited process (2-3 weeks) theapplicant must pay additional $60 surcharge.
Legal Assistance associated with Lost Passports
If an individual faces confusion or difficulty with the obtainment of a new passport or the reporting process of a lost passport it may be beneficial to contact an immigration attorney. These legal professionals can be instrumental throughout the application and approval process with regard to a Lost Passport.
The following forms will be needed if an applicant wishes to include a legal professional in the retrieval or reporting process of their lost passport.
Form G-28: The Notice of Appearance for the Attorney or Representative presents the expressed permission on the part of the non-citizen for the presence of a hired attorney or approved representative with regard to the reporting and replacement of aLost Passport
Form FC-029: This Certification of Photocopiesallows for the approved submission of official documents in the form of photocopies with regard to the reporting and replacement of a Lost Passport; these documents are considered to be valid and acceptable in lieu of the original documentation. However, photocopies of official, government documents are neither accepted nor recognized without the completion and processing of this form
Comments
comments