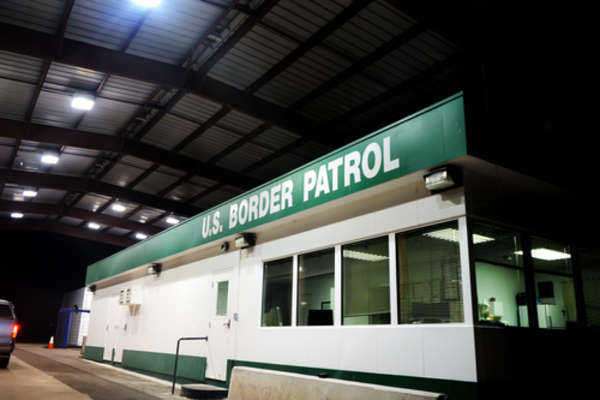 How do I cross the US border?
Different rule exist for crossing into the US by land,
depending on the border. Both entries
have prohibitions on the importation of certain items as well as requisite
customs declarations. Express border
crossing programs may also be in place for pre-screened individuals that meet
stringent regulations.
Entry through the US-Canadian border
Although in the past, a verbal declaration of citizenship
was all that was needed to cross into America via Canada, starting January 31,
2008 all U.S. citizens above the age of 19 had present documents that show
proof of identity and citizenship.
Starting in June 2009, this requirement was upgraded to require
passports or a passport card.
The passport card is a smaller alternative to a conventional
passport and can be issued to all US citizens.
This form of ID is used to enter the United States by land or sea via
Mexico, Canada, the Caribbean and Bermuda.

Individuals crossing the US-Canada border may be subject to
mandatory searches and may be detained if they fail to cooperate, produce
sufficient ID or fail to declare prohibited items.
What is the NEXUS program?
The NEXUS program allows low-risk travels to cross the
US-Canadian border quickly. A membership
card is issued to NEXUS members and they may use that card at any crossing,
regardless of air, land or sea travel. Individuals
wishing to join the NEXUS program for rapid border crossing must apply with the
US Customs and Border Protection. The
applicant must pay a $50 dollar fee. The
applicant is then screened across law enforcement databases and interviewed
based on his or her motives for using this program. One issues, the card is valid for five years.
NEXUS members are still subject to customs checks at the
border and during land travel, all occupants of the vehicle must have NEXUS
cards.
Crossing the US border via Mexico
Nearly 50,000 vehicles pass into Mexico every day which
means that there may be a substantial wait involved with the border
crossing. Coming back from Mexico into
the US requires inspection by US officials and will take at least an hour,
compared to the relatively quick crossing into Mexico. You must have your passport to verify your
identity and citizenship for Customs and Immigration officials.
It is important to be aware of the prohibited items that are
forbidden for importation to the United States as well as applicable customs
and duties related to restricted goods.
Especially when entering the US, you will be inspected by US officials
and subject to a legal search.
Like the US-Canadian NEXUS program there is a border
crossing program for entry into the US called Secure Electronic Network for
Travelers Rapid Inspection (SENTRI).
Like Nexus, it requires a thorough background check but it can only be
used for entry into the US and not entry into Mexico.
Comments
comments