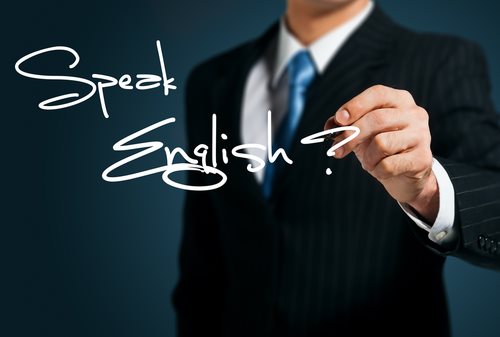 Most studies have shown that the single most important factor in determining the economic success of immigrants in the United States is their ability to speak English. One study has shown that immigrants can increase their earnings by 20 percent by improving their English language speaking ability from "not well" to "very well." Furthermore, the earnings gap between native-born Americans and immigrant narrows when English language ability improves dramatically – by 6 to 10 percent for women and 16 to 18 percent for men.
(More on News at LAWS.com, contact Adam for interviews "adama@laws.com")
In terms of long-established immigrants, those who have learned to speak English very well earn 67 percent more than those who speak it poorly. Also, in terms of education among the 18 to 24 year old contingent, those who speak English very well are almost three times more likely to finish high school than those who do not, and are naturally much more likely to earn a tertiary degree.
Beyond the obvious and well documented economic and educational benefits of speaking English well in America, the English language has served as a unifying force among Americans of all ethnicities and national origins for centuries. Americans practice a multitude of different religions, adhere to various different political ideologies, but language has always served as a common denominator among us. In the 18th century, Dutch settlers went through language shift and adopted English, the same process occurred among German immigrants in the 19th century and Japanese, Italian and Greek immigrants in the 20th century. The pattern has always been that immigrants come here speaking a new language, shift from usage of the old language to English and succeed and become part of the patchwork that is America. It is a winning formula to which we need to adhere so that we may continue to write the success story that is America.
Hence, the importance of the English language provision in the new immigration reform legislation that is being debated in Congress cannot be overstated. This provision would require that for undocumented immigrants to get on the path to citizenship, they would need to learn English and civics. Finally, a triumph of common sense over political correctness.
ProEnglish is a national, non-profit organization that supports making English the sole official language of the United States. ProEnglish works through the courts and even in the court of public opinion to protect the historic role of the English language as the United States' unifying language and to lobby lawmakers to make English the official language at all governmental levels.
The following is an interview with Robert Vandervoort, Executive Director of ProEnglish, on his thoughts and feelings about the English language provision in the immigration reform legislation and the work of his organization in the realm of promoting and defending the status of the English language in America.
How do you feel about the immigration-reform bill being debated in Congress?
ProEnglish is concerned that the current immigration bill in Congress does not have any meaningful English language requirements. In order to become a "Registered Provisional Immigrant", which essentially legalizes millions of people who are not here legally at the moment; there are no English language requirements. After receiving Registered Provisional Immigrant (RPI) status, they can then apply for a green card, which has some very weak English language requirements. Our concern is that bringing in so many non-English speaking people at once into our system, without any meaningful requirement that they learn English, will place an enormous strain on our system.
Do you think the English language provision in the immigration-reform bill goes far enough to promote English language usage among immigrants?
We do not believe the English language requirements in the proposed bill go far enough. There is no English language requirement to receive RPI status; however there are some weak English language requirements to receive a work visa. For example, if an applicant can show they are enrolled in an English language class, which will meet the requirement. They do not have to show they completed the class, or received a passing grade; they just have to show they are enrolled in a class. There are also exemptions for people over the age of 70 and under the age of 16. Finally, there is no in-person interview to determine if the applicant is proficient in English.
Two dozen states have English as an official language. What is the significance of this also happening at the federal level?
If your readers visit our website at ProEnglish.org, they will see a list of all the states that have official English. Having states pass official English laws helps the taxpayer save money from avoiding unnecessary translation costs, and it also sends an important message that English is the language one needs to assimilate to.
What other steps would you like to see Congress take to promote English language knowledge and usage?
In the past, there have been bills defending English-in-the-workplace, so that business owners do not have to fear lawsuits if they wish to conduct their business in English. We would like to see the repeal of Bill Clinton's Executive Order 13166 which requires the federal government to provide translation services in any language to anyone.
There is also a need to get a full accounting on just how much money the federal government spends on translation costs. To date, there was a limited study done by the federal government back in 2002, which found we spend over $2 billion on translation costs, but nothing new since.
We believe the government should discontinue the use of multilingual ballots, which are costly and do not promote assimilation or English language usage. We would also like to see Congress promote English language immersion in the classrooms over bilingual education programs. Studies show that bilingual education programs do not work compared to English language immersion programs.
Do you believe a common tongue among Americans, with that tongue being English, could serve as a great unifying force among us?
It's very clear that having one language is a key component in bringing all Americans together. If you look around the world, you see many places that are dividing over language issues. For example, even our neighbors to the North, in Canada, are divided over language. Much time and money is spent in Canada on translation costs of French and English. Language divisions can be a source of friction, as is the case in Belgium and in Latvia. We are very blessed to have a common tongue that helps us communicate with one another in all fifty states. Yes, our common language of English is a great unifying force, and one we must work to preserve.
For more information on ProEnglish, please visit their page. For more information on immigration law and news, please visit our Immigration Laws Page.
Interviewed with Robert Vandervoort of ProEnglish, Arlington, Virginia
Comments
comments