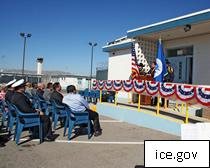 On November 8, 2012, Immigration and Customs Enforcement (ICE) reported that the first-ever Detainee Intercultural Center was opened at the El Paso Processing Center. The Center in Texas lets people in ICE custody reflect, worship, and meditate.

Sandra Marinelarena, the interim assistant field officer director, states: "The El Paso Processing Center is the only ICE detention facility in the country with such a dedicated center."

The opening at the El Paso Processing Center was attended by Father Joseph Molina of Most Holy Trinity Catholic Church in El Paso. He blessed the new building, but ministers in all religious denominations are available to give guidance at the Detainee Intercultural Center.

The El Paso Processing Center holds immigrant detainees who are currently waiting to be deported or waiting for their immigration case in the El Paso Immigration Court. The new facility was converted out of an older building, and the center can now hold about 840 inmates. The center is currently seeing an average attendance of 750 adult detainees every day.

ICE Field Office Director Adrian Macias stated: "The new Detainee Intercultural Center, not only serves the spiritual needs of people in our custody, but it's part of the ICE's larger effort to reform the immigration detention system as a whole. For the past three years, ICE has been making a concerted effort to move away from a punitive immigration detentions system to one that's more suited to civil immigration. The Detainee Intercultural Center in El Paso is another positive step in that direction."

The opening of the new Detainee Intercultural Center comes after government authorities reported they will start transporting illegal immigrants from Mexico to the interior of Mexico before they are released to local authorities. The new initiatives reduce the chances of the deported immigrant joining a criminal organization or being killed.

Source: U.S. Immigration and Customs Enforcement
Comments
comments