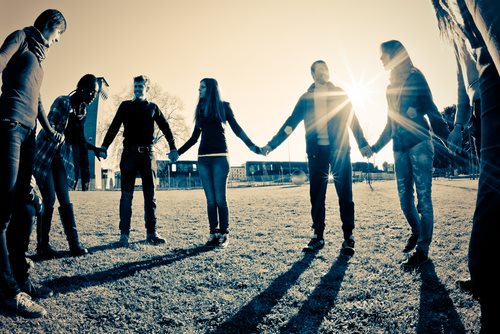 The Gang of Eight's immigration reform legislation had come under further scrutiny earlier this month. 300 amendments to the 844 page bill were proposed by the Senate Judiciary Committee. The most ambitious goals of some of the amendments were to dismember the provisions in the bill for creating a path to citizenship for undocumented immigrants.
However, the Senate Judiciary Committee has approved the legislation that provided a path to citizenship to millions of undocumented immigrants and its refugee and asylum provisions have remained virtually intact. With of 13-5 in favor, the bill has been cleared for a Senate debate.
(More on News at LAWS.com, contact Adam for interviews "adama@laws.com")
The original legislation that was introduced by the Gang of Eight aims to expand legal immigration over the next 10 years, tighten border security, and provide a path to citizenship to the 11 million undocumented immigrants in the country. This last provision in particular has gained the support of many civil rights and social justice organizations; although some have expressed opposition to the length of time undocumented immigrants must wait before applying for citizenship, which is proposed to be 13 years.
One such civil rights organization is the U.S. Committee for Refugees and Immigrants (USCRI). Founded in 1911, the USCRI serves uprooted people, regardless of their race, nationality, ideology or social group. It provides opportunities and tools for immigrants and refugees nationally, fights the warehousing of refugees globally, serves victims of human trafficking and protects the rights of unaccompanied immigrant children.
The following is an interview conducted by laws.com with Roberto Ponce, Director of Communications at the USCRI, on his views on the current immigration reform legislation that is set to be debated in the Senate, and the work of the USCRI in the realms of refugee and immigrant rights.
How do you feel about the immigration-reform bill being debated in the Senate?
We are very encouraged! Particularly since it has passed the Senate Judiciary Committee and will go on to final debate. The US immigration system has been in need for reform for years. We have over 11 million undocumented immigrants that live and work in this country, with many of them belonging to families with mixed legal statuses. In addition, the problem that we currently have is that the current immigration law has separated families for years, if not decades, and has not been modernized for many years, so we need immigration reform. It is a nationwide problem that needs to be addressed.
What are some of the key changes you would like to see happen to U.S. immigration policy?
The USCRI has been working with refugees and immigrants for over a century since 1911. So, based on our direct experience and the knowledge we have gained from working with these populations, we have identified five key priorities for comprehensive immigration reform.
1) A Pathway to Citizenship – we believe that undocumented immigrants living in the United States must have the opportunity to legalize their status and become citizens.
2) Family Unity – ensuring family unity has long been a guiding principle of US immigration policies, we believe that immigration laws need to make family reunification easier, particularly that of spouses and minor children.
3) Integration into America – it is important that immigrants and refugees have the adequate support to integrate into communities across the country. This means that comprehensive immigration reform must provide support for initiatives that help immigrants in their integration journey, for example, we want to see English language classes, civic classes, and naturalization classes.
4) Protection of Vulnerable Populations, particularly, Unaccompanied Immigrant Children – unaccompanied immigrant children have special vulnerabilities, and we must protect immigrant children by granting them access to legal counsel, reuniting them with family and ensuring their continued care.
5) Safety for those Fleeing Persecution – the US was founded on the principle of protecting those fleeing oppression, so immigration reform must include protections for refugees and asylum seekers who are unable to return to their home countries due to persecution. So what we would like to see are vital safeguards that include an extended deadline for asylum applications, prevention of unnecessary separation of refugee families, a path created for qualified stateless people to gain legal status and a continued commitment to special visas to American allies.
Some organizations have argued that undocumented immigrants should not be given amnesty because entering the country illegally is not a victimless crime. They argue that undocumented immigration harms documented immigrants and Americans by taking away jobs they need, and that charity should begin at home. What is your response to this notion?
Well, first and foremost entering the country illegally is not a crime; it is a violation of civil law. Immigrants are great contributors to the US economy and towns and cities across the country. Many immigrants become entrepreneurs and job creators, positively impacting their communities. In fact, immigrants are creating jobs at a higher rate than the general population in the United States. For instance, immigrant-owned small businesses employ 4.7 million people and had $776 billion in receipts in 2007, and this is according to an analysis of census data by the Fiscal Policy Institute. Also, a 2007 report by the White House Council of Economic Advisors concluded that immigration as a whole increases the US GDP by roughly $37 billion each year. So immigration reform makes sense for our country!
What are some of the accomplishments of the U.S. Committee for Refugees and Immigrants?
We have been a voice for the voiceless for more than 100 years. Lately, we have been working a lot in the area of unaccompanied immigrant children, a situation that is rapidly growing; in fact, the number of unaccompanied immigrant children who cross the southern border has tripled since 2008! The border patrol detained 24,481 unaccompanied immigrant children in 2012, three times the figure of 2008! Most of the unaccompanied immigrant children in US custody right now are from Guatemala, El Salvador and Honduras, so we are being proactive in finding partnerships and mechanisms that help unaccompanied immigrant children while they navigate the US legal system.
Recently, we signed an international collaboration agreement with the Universidad Tecnológica in San Salvador, (UTEC), to conduct research on the Salvadoran migrant profile. This report will be presented by UTEC and USCRI in Washington, D.C. and San Salvador in both English and Spanish by the end of the year. So we trust that research will reveal important cultural nuances that will help us create appropriate awareness.
Another thing we are doing, which is very significant I believe, is that, as you know, many unaccompanied children, when entering the US without documentation, are apprehended and detained. By the time they are released to a family member or sponsor who will care for them until a decision is made in their immigration case, most of them have endured violence and attacks of many kinds, so they are traumatized and they are eligible for Post-Release Services. So we work with several partners and organizations on Post-Release Services for children nationally.
We also have an Immigrant Children Legal Program. Many of these children find themselves alone while navigating the US legal system, so we have created an immigrant children's lawyers network, as part of this program. It is a group of accredited representatives and attorneys who provide pro bono services to children so they can represent them in the courts.
Who can participate in this program?
Any attorney who has expertise in policy issues related to immigrant children before the Executive Office for Immigration Review in the USCIS and those who provide technical assistance can participate. We would be happy to work with them!
Our contact here is Stacy Jones. Her email is sjones@uscridc.org.
In the email they can just explain the work they do and that would be wonderful because this is a tremendous service that we do for these children.
What are some of the future plans for the U.S. Committee for Refugees and Immigrants?
We want to continue working very hard. We are devoted to the work of refugees and immigrants in the US and around the world. We want to continue to be a voice for the voiceless! We have done it for more than 100 years and we want to continue doing it for another 100 years or more.
For more information on the U.S. Committee for Refugees and Immigrants, and to find out how you can get involved, please visit their site. For more information on immigration law and news, please visit our Immigration Laws Page.
Interviewed with Roberto Ponce of the U.S. Committee for Refugees and Immigrants, Arlington, Virginia by Adam Abdelaziz.
Comments
comments