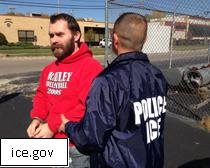 On October 16, 2012, Immigration and Customs Enforcement (ICE) announced that Dariusz Gordziejczyk was turned over to Polish law enforcement because he is wanted for extortion, kidnapping, and attempted murder in his home country. The deportation was handled by the ICE's Enforcement and Removal Operations (ERO).

The original arrest warrant was issued for Gordziejczyk on September 14, 2001 by the Bialystok Criminal Court for the charges listed above. The arrest warrant stated that Gordziejczyk and co-defendants beat a man in 1999 in order to extort money, but the man eventually escaped. Gordziejczyk was sentenced to two years in prison for the crime.

Gordziejczyk and co-defendants also kidnapped a man in 1999. They drove the man to a patch of woods, covered him in gasoline, and threatened to light him on fire unless he turned over his BMW. He was sentenced to four years of this crime as well, but he fled to the United States before he was supposed to serve his prison time.

He fled to the United States in February of 2006 on a visitor's visa, and he stayed in the United States after his visa expired in February of the following year.

ICE's Homeland Security Investigations (HSI) received a tip from the FBI that Gordziejczyk was believed to be living in Chicago. The HSI special agents found Gordziejczyk on July 12, 2011 in River Grove, Illinois.

Gordziejczyk was ordered to leave the country on March 19, 2012. He appealed the sentence in July of 2012, but the Board of Immigration Appeals denied the appeal. He will begin serving his sentence immediately.

Ricardo Wong, the ERO Chicago field office director, stated: "This individual tried to escape justice in Poland for the crimes he committed there. On a daily basis, ICE protects public safety by arresting and removing international fugitives who pose a threat to our communities."

Source: U.S. Immigration and Customs Enforcement
Comments
comments