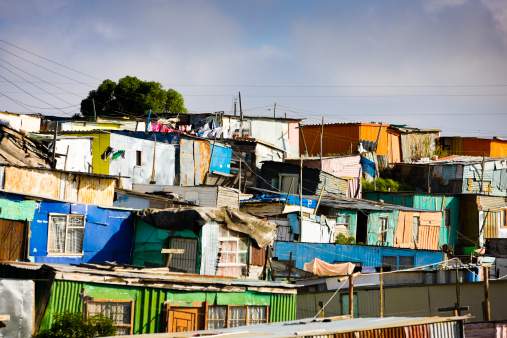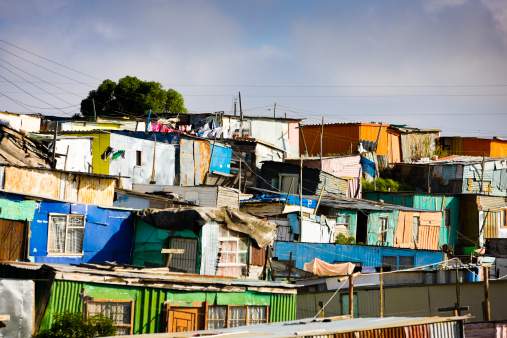 There are a number of reasons and causes for immigration to be seen as a necessary course of action. Reasons like poverty, family reunification, war, natural disaster, overpopulation, and political instability all pose an endangerment to the affected people and their families. Illegal immigration has been a major issue in debate for many well-developed countries. Immigration policies are always being updated and revised.
Poverty
Poverty is a leading cause for the affected person's decision to immigrate to another country. Poverty can be measured by the lack of food, resources, shelter, and education of a territory and is often correlated to a high crime rate or death rate in the state or nation. In a poor economy with little or no government insurance – or at times, interest -for the well-being and maintenance of its citizens, people are left destitute and helpless.
Poverty leaves people struggling to find food with sufficient nutrition and will sometimes make it impossible to even find drinkable water. Yet, poverty is a time-tested gauge of the solvency of that nation's economical flaws, which result in a lack of money in the economic flow of the society at hand – including the lack of money to be earned by citizens. Without money to purchase needs or wanted goods, people might be prone to criminal actions for their gain.
With so much destitution and despair, families will opt to immigrate to a land full of promise, food and resources. The new country they inhabit will be more than likely to have a flowing economy and opportunities for the illegal immigrants to find work. However, further problems arise when immigrants are paid less than minimum wage, as well as find themselves in dangerous and harmful working conditions that often lead to injuries or even deaths. This is due to the large amount of immigrants in the industry of physical and work labor jobs.
Family Reunification
Family reunification has been known to be another leading cause for immigration. Many times, one or two family members residing in a country with a struggling economy will explore other residential prospects, with the hopes of gaining financial prosperity due to steady cash flow. In the specific example of the United States and Mexican immigrants, many Mexican immigrants have crossed the border to find work to make money that would then be sent back to their families in Mexico. This scenario rings true for immigrants to other popular countries of immigration.
Once families comprised of illegal immigrants grow accustomed to a lifestyle in their new host land, they will undoubtedly make decisions that will not only determine the date of their return to their country of origin, but also the future plans for their extended family. Many times, the family still residing in the country of origin will seek to start a new life both with better opportunities, as well as more breathing room from overpopulation or dangerous political rule. The family, wishing to reunite, might make the choice to immigrate in order to be with each other once again. Once fully reunited, it has been found that immigrants do not tend to stay in the new country permanently and are found to eventually go back to their country of origin.
Family immigration contributes to the rising rate of illegal immigration. There exist many instances where family members will also immigrate because of the legal residence and status they can attain through a family member already legalized in the respective country.
War
War is another huge contributing factor for the number of immigrants in a new country. There exists many ways in which a war can generate displaced people from all areas of the world. refugees
In the midst of such dire series of events, all displaced persons will seek a new home and a new life; a quest, which at times, is contingent on illegally immigrating to another country where they may try to pick up the pieces and start all over again. Wars have been many of the primary catalysts for so many immigrations and displaced persons all over the world, especially following World War II
Natural Disaster
Another reason for immigration is due to the destruction and wreckage caused by natural disasters. In the event of a terrible tornado, tsunami, or earthquake, myriads of people in the affected area will find themselves homeless, hopeless, and sometimes at a loss of their family members. Devoid of all possessions, many people will turn to the option of immigration to start life anew. Many times, an already impoverished area will be struck by a natural disaster that not only leads to displaced people, but also to a complete economic and societal collapse.
Most recently, the wake left by the earthquake in Haiti
In recent news, Obama has agreed to give 30,000 Haitian nationals a Temporary Protected Status (TPS) that will grant their statuses in America for an indefinite amount of time. Relief efforts plan to relocate 400,000 Haitians from makeshift camps to tent cities that will be government funded by many countries joining in the world effort to bring relief to the tragedy.
Overpopulation
Overpopulation is another major cause for people to opt to immigrate to another country. Overpopulation is the result of an excessive amount of people overcrowding a piece of land, and the problems that arise as a result of overpopulation include food shortages, a lack of resources, an increased rate of crime and murders, susceptibilities to illnesses and diseases and climate change. Under these tight and terrible conditions of living, many decide to flee and immigrate to a new land which would be filled with resources, food, water, and plenty of comparable living space.
Other crippling effects of an overpopulated area can be the lack of job opportunities available to the people. Such shortages in employment opportunities result in people without having any means to make a living and provide for themselves and their families. In these communities, citizens have been found to trade or sell produce – as well as whatever resources are available to them. In light of this issue, the desire to illegally immigrate to a country with a stable economy filled with job opportunities would seem to be a brave and clever method for survival and better living.
However, the immigrants that wish to escape overpopulation start to pour into already overcrowded cities and countries. This dynamic creates the problem of overpopulation to their hosting country, especially in a society for which so many of the illegal aliens can not even be accounted. The implications of more and more immigrants in, for example, the United States creates statistics such as the following: more than 55 million people have been added to the U.S. since the 1970's which is equivalent to all of Central America's growth in thirty years.
Political Instability
Political instability is another popular reason for immigration. In times of war, genocides and ethnic cleansing processes, many people had been subjected to the harsh cruelties and torturous deaths under their land of origin's tyrannical government. Many deaths occur as a result of dictators and the political instability that ensues under their rule. In this scenario, political instability can be a cause for all the reasons to immigrate; under an unstable authoritative rule, crime rates escalate, people are overcrowded into interred (as found in the example of the Holocaust
Under these terrible living conditions, families will choose to illegally immigrate and flee the impending dangers and threats of their own country. As was in the case in World War II, millions of people were dislocated and even more were voluntarily displaced because of Nazi Germany and their threatening policy to Jews or anybody of non-German descent.
When people flock to another country, they will seek a government with a calm temperament, to a land that offers freedom, independence, justice and security. As a result, well-established countries like the United States, France and England are looked at favorably because of their stable government and their steady economy.
As seen, there are a number of reasons why people find the need to immigrate to another country. Too often, the living conditions of the affected area or the implications of an impoverished and corrupted land will drive people to seek better for their lives and for their family's lives.
Pull vs. Push Inasmuch as Galileo's exposition of the heliocentric theory overturned prior astronomical conventions, the work of Ernest Ravenstein and other anthropologists challenged the idea that human migrations could not be understood under any guiding principles. In particular, one binary that has been of lasting significance to migration studies is the "push versus pull" principle of emigration/immigration.
Push factors, on one hand, govern catalysts for refugee, displaced persons and migrant worker movements to foreign lands because of adversity at home, such as civil unrest, natural disaster and economic downturn. Pull factors, meanwhile, are those positive attributes of foreign nations that attract said groups to their shores, even in the absence of immediate threats to their existence; such examples include something as seemingly banal as nicer weather, or something as grave as enough available food.
As droves of Mexican/Latin migrant workers migrate illegally to the United States, there exist clear push and pull factors at work. In terms of push factors, poverty, crime and pollution of urban areas in Mexico are all means for undocumented laborers to risk life and limb crossing the border. In terms of pull factors, education, employment and First Amendment guarantees are among the reasons America is so appealing to refugees and illegal aliens. On one hand, overpopulation of illegal aliens can cripple an area, with demands for health care and financial support exceeding the ability of officials to supply it.
Yet, on the other hand, advocates sympathetic to the cause of overworked, underpaid illegal migrant workers believe in the myriad benefits of the immigrant presence in the United States, and oppose mass deportations due largely in part to these push/pull factors. Consequently, American policymakers must be careful not to upset the balance between nationalist interests and pro-illegal support.